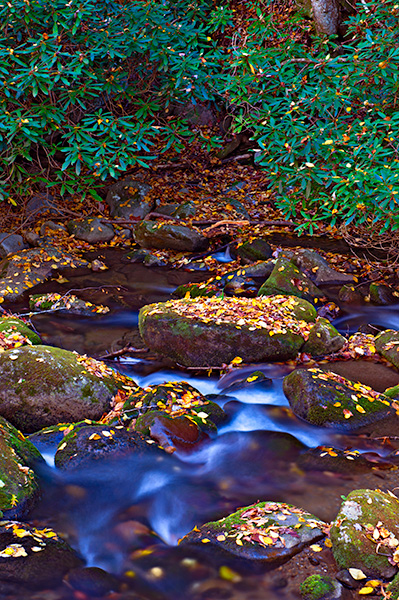 Great Smoky Mountains Photo Workshops
Click on 'Green' links to go to either further information about the national parks or to images of the locations we will visit. Hit your browser's 'Back Button' to return to this page.
Free hour of online post-workshop image editing and/or image organization training with this workshop!
Great Smoky Mountains National Park
Great Smoky Mountains 2015
Photo Workshops
Darkness to Light Workshops are fully sanctioned
by The National Park Service Great Smoky Mountains National Park

April 19 - 24, 2015
October 18 - 23, 2015
4.5 Exciting Days for $650.00 per person
'Full Moon' indicates a workshop during which there is a possibility of capturing the full moon rising over the Smokies.
Custom Photo Tours Available
What Workshop Participants Say About Bill:
"Bill is a bundle of knowledge wrapped in a blanket of positive energy." Kathleen L.
"He is a talented, experienced artist and a born teacher." Josette S.
Your expertise, patience, and respectful instruction were much appreciated by this novice with a point & shoot camera." Betty Kay
"Even with years of professional experience at my fingertips, Bill had exciting and unique suggestions for me to try at his Great Smoky Mountains Workshop. He also knows where to take his students to make great photographs once on-location. Meg M.
"I will sign up for anything Bill teaches." Bob L.
"He is great. He works with beginners all the way to professionals." John A.
Workshop Details:
The first portion of this workshop focuses on the southwestern side of the Smokies including Cades Cove, not only the most popular destination within the park, but also the best location for viewing wildlife, Foothills Parkway West for great sunrises, the Tremont area featuring wonderful waterfalls big and small, and Little River Road one of the most scenic river locations in America.
The latter portion of this workshop takes us to the very top of the Smokies at Clingman's Dome, includes Morton's Overlook, one of the finest sunset vistas in North America, and the Roaring Fork area featuring a number of 19th Century farmhouses hidden away in the mountains.
Detailed schedule click HERE. Slideshow of sample tour images click HERE.
All locations sunrise to sunset (times vary by season) are within easy walking distance of your vehicle –– no strenuous hikes or difficult trails to navigate. Except for the wide mountain vistas seen from Clingman's Dome, Morton's Overlook, and Foothills Parkway West, our subjects include a wide variety of wild flowers and mountain foliage, a wonderful selection of mountain streams, creeks, and rivers, and a few lovely water falls. In addition, deer, bear, coyote, and fox are often seen early morning in Cades Cove.
The Instructional Phase of these workshops is on-going. Receive as much or as little guidance as you desire.
During these workshops, you will learn all about:
Shooting in all kinds of dramatically changing light

Composition (both gray scale and color) and the Art of Seeing

Lens choice and full camera setup

Effective tripod use and shooting moving streams and waterfalls with bracketing and time exposure

Shooting effectively, not only during the 'Golden Hours' early and late, but also during the middle of the day when the light is less kind

All the issues that accompany shooting in the field: weather, clothing, power backup, varied terrain, camera & sensor maintenance, etc.

How to shoot beautiful sunrise and sunset images.

Shooting Infrared images

Meet new people and have a great time

In addition to all this, if you would like some digital editing guidance, bring along your laptop with the appropriate software and I will see that you get the pointers you would like.
The workshop schedule avoids crowds as much as possible while carpooling will be used to facilitate easy movement from location to location. Also, I reserve the option to alter the schedule on the spot if either weather or ground conditions warrant.
The tuition for this Workshop is $650.00 per person for the 4.5 days. You are responsible for your own travel, food, lodging, and miscellaneous expenses.
I use the Best Western Cades Cove Inn in Townsend, TN; and in the Super 8 in Gatlinburg; please call (865) 436-2222 and mention you are with Darkness-to-Light workshops for a good discount. This discount is not available online.
Expect all the one-on-one attention you may need in all phases of photography. Also, I occasionally will be shooting right along with you, demonstrating all the techniques I employ to capture the very best image in the field.
Weather is usually not a factor in the Smokies. Clouds and rain can produce stunning, richly colored images. In addition, you can also learn how to handle the deep shadows and pronounced contrast resulting from mid-day, cloudless skies. As the date of the tour approaches, I will advise everyone of the appropriate clothing.
Registration: To register for this Smoky Mountain workshop, click HERE , print out the D2L Registration form, and mail it in with your deposit. Upon registration, a $200.00 deposit is required with the remainder due 30 days before the workshop. If you have any questions, please either email me at (billjordan@darkness-to-light.com) or call me at (803-932-9540). When I receive your deposit, I will send you information with which you can begin your own research. Reserve early to assure a spot.